HOME PAGE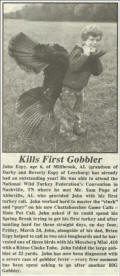 You can find our calls at "Southwest Archery" in Dothan AL
3600 Oates St. (south on HWY 231, past Hunts BBQ) (334-446-6198) OR order them right here online and pay easily with PayPal.

Chattahoochee Game Calls is the result of a lifetime hobby of Sam Pope from Abbeville Alabama. Sam began his hunting career at the age of eight and bagged his first gobbler when he was fourteen years old. He has more than 45 years of experience hunting wild turkeys now, and has over 300 birds to his credit between his personal hunting trips and guided hunts.

Sam does several guide trips and shows annually and has been featured in numerous newspaper and magazine articles, the most recent being the August 2008 issue of Woods 'N Water. (Patty Turley page 65)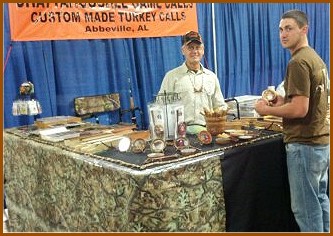 Sam began learning how to make turkey calls from his father who developed a small scratch box call many years ago. Since then Sam has been making and perfecting calls for himself, his friends, and now for the public. Sam and his wife Grace have been supplying sporting goods stores throughout Alabama with his calls since 2002, doing business as Chattahoochee Game Calls. Now you have the opportunity to purchase one of his great calls through this website.
One of Sam's best calls is the "Pope's Pock'et Scratch Box Call" (see movie). Sam says, "We're proud of our calls and we want happy customers" and he's willing to prove it with a lifetime guarantee on the pocket scratch. If there's ever a problem with the scratch box call, just ship it back with a note explaining the problem and Sam will ship you another call at no charge.
All of Sam's calls are handcrafted one at a time then hand tuned to his satisfaction, so you can rest assured that you will be getting the absolute best sounding hand made call available anywhere.

The shopping cart portion of our website is powered by PayPal, You DO NOT have to be a PayPal member to make a purchase. We accept all of the credit cards shown above through PayPal. PayPal offers secure checkout as well as buyer protection.

All shipping and handling is $6.50